Welcome
Welcome to our Sixth Form Page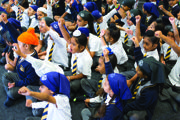 Dear Post 16 Students and Parents/Carers, Welcome to Khalsa Secondary Academy. I trust that our Sixth Form Prospectus will help you make the most important decision about continuing education Post 16 with us.
At Khalsa Secondary Academy, we seek to provide the highest quality of education and the highest standard of academic success for all our students. We value our young people and regard their progress as our primary focus, whether our students are studying an academic or vocational pathway.
Our staff will work with determination and dedication to ensure that all students fulfil their true potential. We have very high expectations of our students but we are a very caring and supportive school and we will create an environment of tolerance and respect where aspirations and responsibilities of individuals are emphasised.
Close co-operation between home and school is essential if our young people are to gain the maximum benefit from their sixth form career. The school's strong pastoral support system enables us to develop effective home-school relationships that are beneficial for each student. Our Mantra "together as one", emphasises our strong ethos of working with respect for others but also our strong sense of community and service to others. Our inclusive Sikh values mean we will we nurture principled, hard-working and ethical young people who will be responsible model citizens. Education is about preparing young people for their future. Our students leave school to go to university, college or to start a career in their chosen field of employment.
To assist in the preparation for that future, the school has a Sixth Form provision covering a wide range of courses, career facilities and a system for helping our young people with their university applications. We also have a dedicated gifted and talented team to ensure that aspirational Oxbridge students or those wishing to pursue a career in medicine for example, are highly successful with their applications. Khalsa Secondary Academy is a forward looking school, keen to strive for further improvements in the quality of education we provide. We recognise that the quality of facilities can help students excel. We therefore will have the very best in terms of accommodation and resources providing superb opportunities for the students to increase their enjoyment of school life, as well as having the latest teaching opportunities.
I thank you for considering Khalsa Secondary Academy and hope that the information provided in this prospectus enables you to make the best choice for you in terms of courses and institution for continued education Post 16.
We are looking forward to working with you. We will ensure that you have the best experience and achieve the highest qualifications ready for that very bright future ahead. Please talk to your teachers about the courses on offer. If you are not currently studying at Khalsa Secondary Academy please do contact us to discuss what we have to offer you.
Yours sincerely,
Mrs Piesse