Apprenticeships
An apprenticeship is a job training programme that ensures that an apprentice will be employed from day one. Apprenticeships combine practical training in a job with study.
An apprentice will:
Work alongside experienced staff
Gain job-specific skills
Earn a wage and get holiday pay
Be given time for study related to their role (the equivalent of one day a week)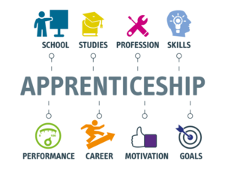 What levels are there?
All apprenticeships include elements of on the job and theory elements, leading to industry recognised standards or qualifications. Some apprenticeships also require an assessment at the end of the programme to assess the apprentice`s ability and competence in their job role.
Intermediate - Level 2 - Equivalent to 5 GCSE passes at grade A*– C or 9 – 4
Advanced - Level 3 - Equivalent to 2 A level passes/Level 3 Diploma/ International Baccalaureate
Higher - Level 4, 5, 6 and 7 Equivalent to a Foundation degree and above
Degree - Level 6 and 7 - Equivalent to a Bachelor's or master's degree
What can they earn?
For the latest National Minimum Wage rates, please refer to the Government webpage:
https://www.gov.uk/become-apprentice/pay-and-conditions#:~:text=Aged%2019%20or%20over%20and,is%20%C2%A34.81%20per%20hour.
Why should you apply?
Real wage and part of a real work force
Follow Labour Market Needs by being trained in the skills employers want
Set yourself up for the future – apprentices enjoy marked salary increases when they complete their training, and those completing a higher apprenticeship could see increased earnings of an estimated £150,000 over their lifetime.
How do you apply for an apprenticeship?
There are between 12,000 - 20,000 apprenticeships vacancies online available at gov.uk/apply-apprenticeship.
The best way to search for your ideal apprenticeship is by keyword; for example job role, occupation type or apprenticeship level and by location. In addition, some employers advertise vacancies on their website. Once the right job comes up, simply register on the website and follow the step by step instructions to apply for the role.
Links to support and help you apply for an apprenticeship
Alternatives to Higher education Discover Jobs for School & College Leavers in the UK | NGTU
UK Government Webpage Find an apprenticeship
UK Government Webpage Become an apprentice
Support and guidance https://www.apprenticeships.gov.uk/#
Apprenticeships - https://amazingapprenticeships.com/
Labour Market Information - https://www.blackcountrylep.co.uk/our-strategy/people/labour-market-intelligence/lmi-toolkit/
Not Going to Uni - https://www.notgoingtouni.co.uk/