The Khalsa Academy Wolverhampton
Our Ethos & vision
ETHOS
The word 'Sikh' means learner and as such the learner and the learner's journey is at the heart of The Khalsa Academy Wolverhampton's ethos. Our ethos is informed by the principles of Sikhi and a desire to weave these together with British values to work towards creating a more integrated Britain. We strive to build upon our students educational and humanitarian qualities to create the leaders of tomorrow.
VISION
At TKAW we will nurture the potential of all students and provide them with the opportunities to achieve more than they thought possible. We pursue this using our universal Sikh values, of Sat (Truth), Santokh (Altruism), Daya (Compassion), Dharam (Service), Himmat (Courage), Chardi Kala (Resilience) and Pyaar (Love).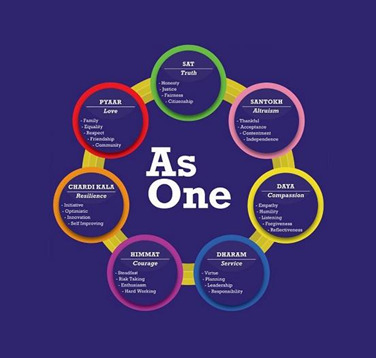 Our values underpin our commitment to having an unconditional positive regard for others regardless of age, race, religion, gender, sexuality, disability, nationality or any other aspect of a person's identity. These values, combined with rights, responsibilities and routines will lead to good behaviour where everyone is able to work effectively, feeling safe and respected, failure to adhere to our values through poor or unacceptable behaviour will be sanctioned appropriately.
Kirat Karna means to live an honest life and be hardworking. At TKAT we have translated this into
TOGETHER AS ONE, WE WILL WORK HARD TO EXCEED EXPECTATIONS through;
Service & Resilience.
Naam Japna means to meditate and recite God's name. We have translated this into
TOGETHER AS ONE WE WILL DISCOVER OUR PERSONAL SPIRITUAL JOURNEY through;
Truth & Courage.
Vand Chakna means to contribute and share within our wider community. We have translated this into
TOGETHER AS ONE, WE WILL LIVE LIFE IN HARMONY WITH ALL OTHERS through;
Compassion, Altruism & Love
The Khalsa Academy Wolverhampton