Welcome To Khalsa Secondary Academy
GCSE EXAMINATION SUCCESS
Another Great Year for Khalsa Secondary School
KSA students have enjoyed another great year of GCSE results. The school has achieved excellent overall progress scores showing the value the school adds and how well its students achieve across the board. Many students have achieved top scores and are looking forward to the next stage in the educational careers.
66% of pupils achieved 5 or more passes at GCSE including English and Mathematics and nearly half of all pupils achieved a GOOD pass at 5 or more GCSEs including English and Mathematics. 69% of students achieved a pass in two or more Sciences.
"We are very proud of our students who have worked so hard to achieve these results and we are grateful for the support we always receive from parents to ensure their children strive to do their best", Julian Williams, Acting Head of School.
Overall the attainment in subjects across the curriculum improved considerably from last year with some outstanding results with Italian at 100% pass rate, Panjabi at 95%, History at 92%, Drama at 90%, PE at 83% and Geography 81%.
Many of our students will now be looking forward to starting their A' level and BTEC courses in the school's sixth form in September having achieved some really excellent results.
"We are also grateful to our Staff and our Governors who work tirelessly for the children and can now share in their success", said Mrs Piesse, Principal of Khalsa Secondary Academy.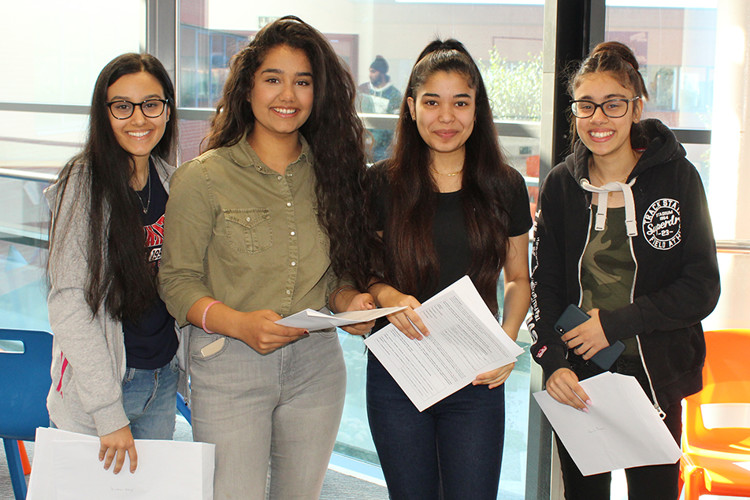 Kimran Nagi, Bavanpreet Kaur, Harveen Sangha and Amrita Panesar
Congratulations to each of these pupils, each of them gained grades 9-5 in 5 or more subjects including English and Maths

Priyadeep Nijjar
Made an average progress of over two grades per subject ahead of her target grades.

Manvir Sehra
Fantastic set of results with Six grade 9's and four grade 8's
Welcome to our website. I hope that it will give you a flavour of our academy, provide you with the information you need and encourage you to visit us to find out more.
Welcome to Khalsa Secondary Academy, a thriving, vibrant and caring school with inclusive values at the heart of our educational philosophy. At Khalsa Secondary Academy it is our mission to educate the whole child and support them into becoming confident, productive, selfless and ethical members of society.
We have high personal and academic expectations for all of our students, offering them an environment of academic rigour, creativity and wider educational opportunity beyond the classroom. By valuing every child and promoting kindness, honesty and respect we encourage, challenge and support each of them to achieve their full potential.
At Khalsa Secondary Academy we are lucky enough to have state of the art facilities, allowing us to provide our students with the best possible education.
Parents are at the heart of our schools as it is because of them that our schools exist. We want all parents to have the opportunity to contribute positively to the future success of the Trust and schools.
At Khalsa Secondary Academy we work Together As One to achieve excellence in all that we do.
Julian Williams
Acting Head of School
My daughter has grown enormously in confidence in the last 5 months, her character is also blossoming, both in a ways I could have only hoped for 5 months ago. She is also doing very well academically.
Parent
We are Non Sikhs but the children enjoy going to the Gurdwara and have felt no pressure in joining in, it has brought about a sense of peace with both of my children.
Parent