Welcome to The Khalsa Academy Wolverhampton
Covid-19 Symptom/test results update form
Please use the link below to report any students/household members with symptoms or those who have had a test for Covid – 19.
TKAW Risk Assessment Operational Risk assessment for schools reopening
Parent Forum Expression of Interest
Open Evenings Information
Welcome t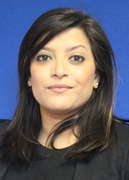 o the Khalsa Academy Wolverhampton. An inclusive Sikh ethos school where academic excellence and vocational success provides students with the knowledge and transferable skills to benefit society. We take a holistic approach that develops the "whole" child to be the very best version of themselves and successful individuals that contribute to the local community and beyond. Our ethos is based on the three Principles of Sikhi which are applied as: beyond the individual, beyond academic achievement and beyond selflessness. These are central to everything we do at TKAW.
We are a school where accountability is important for every stakeholder in order to bring about positive sustainable change. We want the local community, parents, staff and students to invest in our school through commitment, clear communication and collaboration, "Together As One" school, community and family; exceeding expectations.
Mrs A K Notta
Principal
Welcome back to School
We welcome students back to school on Thursday 3rd September.
The information below is important to read prior student return.
Communication plan for parents
Autumn Term 2020
Term Time: Thursday 3 September 2020 to Friday 23 October 2020
Half Term: Monday 26 October 2020 to Friday 30 October 2020
Term Time: Monday 2 November 2020 to Friday 18 December 2020
Covid-19 updates from TKAW
Please check the page linked below for updates from TKAW regarding COVID-19 information.
Coronavirus - Advice from the DFE

We have received advice from the Department for Education (DfE) regarding the Coronavirus. The overall risk to the UK remains moderate and you should not be unduly worried about the possibility of your children catching the Coronavirus. There are however actions we can take to prevent the spread of any virus as follows:

Promoting basic hygiene practises at home and in school.

Regularly washing hands with soap.

Always sneeze into a tissue and "bin it".

Latest information and advice can also be found at:
If parents have any concerns or complaints these need to be raised by the academy complaints procedure.
If you require paper copies of any documentation please contact the school administration team.